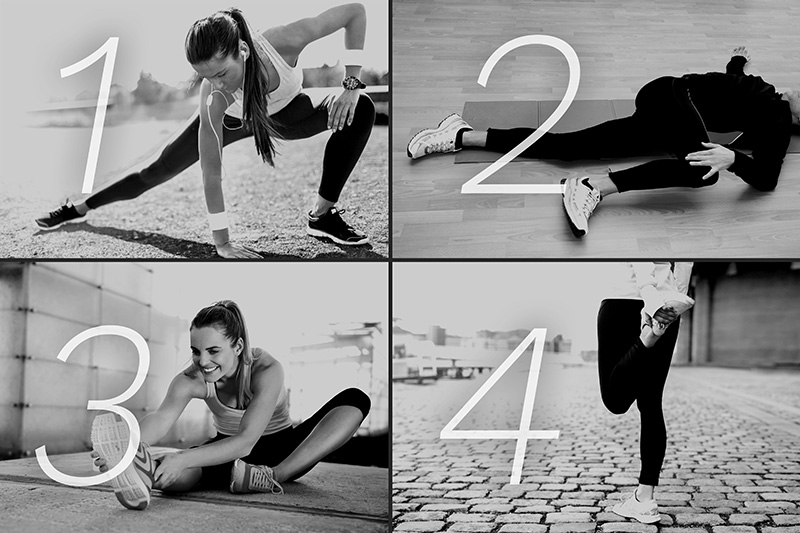 After you've finished your cardio workout it's time to give those those muscles a good stretch so you can avoid soreness, fatigue, back pain or even injury. The muscles you've worked so hard during your exercise need time to recover so they're ready for your next workout. Here are 4 stretches you should do after your
cardio workout
:
1. Side Lunge Stretch
The side lunge stretches the hip adductors. Tight hips can lead to a variety of injuries in the knees, back and hamstrings.
To do this stretch:
Stand upright, with both feet facing forward, double shoulder-width apart. Place your hands on your hips or thighs, in order to keep your back straight. Slowly exhale, taking your bodyweight across to one side. Avoid leaning forward, or taking the knee of the bent leg over your toes.
2. Crossover Stretch
The crossover stretch will help to release your hips, iliotibial (IT) band and lower back.
To do this stretch:
Lie down with your legs straight and your arms extended out to the side. Bend one knee up towards your chest and place your opposite hand on your knee. Slowly pull your knee across your body towards the ground until you feel a slight stretch. Hold for approximately 15-30 seconds.
3. Hamstrings Stretch
Tight hamstrings can cause back pain, discomfort and difficulty lifting your legs. Stretching these muscles regularly can help to alleviate these effects.
To do this stretch:
Move your right foot toward your inner thigh, so that it touches the top part of your left leg, if possible. Lean forward, bending but not rounding your back and waist toward the left foot as if reaching for your toes. Repeat with the other leg.
4. Quadriceps Stretch
After exercise like running, quads can tighten which can bring on strains and knee injuries.
To do this stretch:
stand upright and pull your leg behind you with the corresponding hand. Try to keep your knee pointing downward as you do this stretch to protect your knee joint.
Another tip we suggest here at 2nd Wind is to try mixing up your workouts for better results and to avoid muscle fatigue. If you're sore from your previous workout, try changing up the muscle movements next time. For instance, if you like to run, try a
rowing exercise
the next time around. This change offers less impact on the joints and changes your muscle movements.