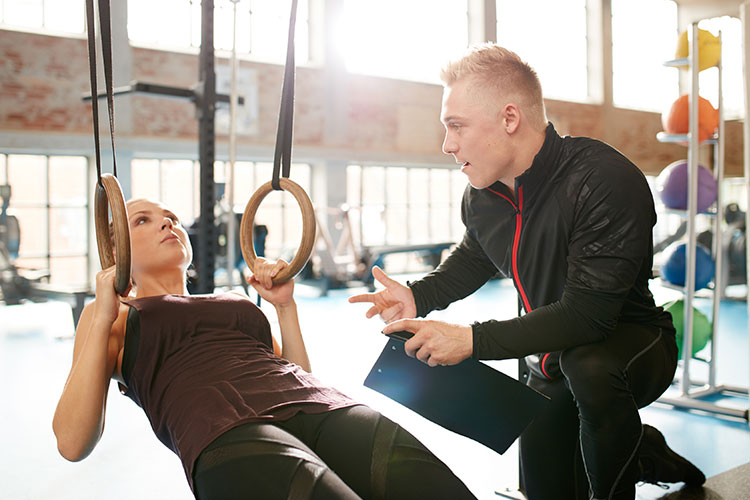 We are officially into 2017, and maybe you've already made goals for the New Year. If not, that's okay, it's always the right time to start a new goal or a life improvement. If you're making health and performance related improvements such as losing weight or getting in shape, a little planning and a few tricks can make all the difference towards making those goals a reality. If you've got big plans for 2017, here are a few are a simple tricks you don't want to miss.
Set Concrete, Achievable Goals.
This widespread advice is still important. If you want to make your goals a reality, know what you are trying to achieve and when you will achieve it. Give yourself a realistic deadline, such as lose 5 pounds this month. While your goal may be to lose 20 pounds or more, breaking this goal into smaller pieces lets you celebrate your progress along the way. Big changes don't happen overnight. Consistently sticking to your plan for reaching your goals over time will ensure you get the results you envision.
Track your Progress:
Bad days happen. The scale will weigh heavy. You will make bad diet choices. You'll miss a workout…or even three. That's called life and it's why you need to document your progress. A simple calendar or spreadsheet can record the basics: a daily weigh-in, meal planning, or just getting your workouts in can all be recorded in less than a minute. When you see a string of successes your goals become a part of who you are, making it a lot easier to stay on track and on the wagon.
Build a support network.
By making your goals public, you create accountability. Take this a step further by enlisting a network of others who can support you in your goals. Scheduling a few personal training sessions can be a big help in creating accountability. You can also take advantage of on-line support networks, including ViaFit integrated into everything from
treadmills
to
recumbent bikes
. This virtual technology allows you to effortlessly upload your workouts (see Track your Progress above), while choosing friends, joining in challenges, and setting personal goals that will help keep you motivated.
HIIT it Hard.
High Intensity Interval Training has big benefits for all exercisers, whether you're a serious athlete or just looking to shed some body fat. Two sessions per week is ideal. Just 20 minutes will increase post exercise oxygen consumption (you'll burn calories AFTER you work out!) reduce body fat, and increase your VO2 max (i.e. cardiovascular efficiency). Think that HIIT training is just for hard-core athletes? HIIT is based off of your own heart rate and performance and can be used by any level of exerciser. Overwhelmed? Sprint 8 is a patented way to take the guesswork out of HIIT training by providing efficient 20 minute workouts that are proven by research to reduce body fat and increase energy levels.
86 Sugar and Alcohol.
Say good-bye to sugar and alcohol. It's been fun. You know that container of your favorite cookies in the cabinet? Take them to the office. Leftover wine and sugary soda in the fridge? Throw it away. Do not buy more. Whether you're improving your performance or shedding body fat, it's time to get the empty calories out of your house so you can support your goals with wholesome nutrition that will improve your workouts and your blood sugar. And if you're looking to blast belly-fat, this is important. Not all calories are created equal and those from sugar and alcohol are the most likely to build up as inches around the middle.
Start Slowly.
When you want to make big changes, take the time to build a base. Frequently new exercisers are excited by their training goals and feel the need to hit their workouts hard, day after day, risking injury and burn-out. Remember that your tendons and joints will also be keeping up with the work that your heart and muscles do, but will take longer to grow strong and to recover. Build in active recovery and low or no impact training sessions so that you can keep your momentum going without creating additional aches and pains. Recumbent bikes and incline settings on treadmills are great ways to continue training and burning calories without stressing your joints.
Invest in yourself.
While you might be tempted to reward yourself with opportunities to indulge in skipped workouts and "cheat meals", the best rewards are investments that will move you closer to your goals. We all know the frustration of working with sub-par equipment and the joy of having workouts and progress click. Personal training and massage sessions are affordable and motivating gifts. Home fitness equipment that allows for a range of training options and body sizes is another way to ensure that you stay on track when celebrating your success. The
Matrix TF50XIR treadmill
offers a top of the line, commercial experience that accommodates running, incline training, and larger athletes with ease. With a large surface area and a user rating up to 400 pounds, this machine is tough and will stick with you as you progress in your training. Virtual Active and Sprint 8 integration take the guess work out of creating effective and motivating workouts that you can share through the effortless ViaFit platform. As you move towards your goals in 2017, remember that making lasting changes takes time and perseverance. Commit to manageable goals, record your progress, and remember to build in rewards and recognition for your achievements. By this time next year, you won't believe how far you've come!