Special Price
$1,299.00
was
$1,599.00
The BODYCRAFT VR400 Pro Air and Magnetic resistance rower represents over a decade of research and development and incorporates all the latest technology and long standing consumer requests resulting in one of the finest rowing simulators ever created. Ultra smooth industrial grade bearings housed inside the friction free rollers combined with the ergonomically designed contoured seat and precision extruded aluminum track provide even the most seasoned professional rowers one of the best "out of water" rowing experiences available.
Monitor Easy to Read LCD. Resistance Manually Controlled Air and Eddy Current Magnetic Resistance. Handlebar Straight Bar Comfort Grip Aluminum Handlebar. Seat Deep Contoured Seat with Heavy Duty Roller Bearings. Foot Hold Deluxe Adjustable Heel Rest with Quick Adjust Foot Straps. Track Heavy Duty I-Beam Mono-Rail - High Strength T13 Aluminum(3" wide). Handle Drive Premium Nylon Belt. Support Legs Precision Formed Laser Cut High Strength Steel. Monitor Arm Adjustable with Easy Tilt Dual Pivot Points. Finish Powder Coated Steel with Anodized Aluminum Beam. Storage Quick Release Fold and Roll System. Fastest folding mech available! COMPUTER FEATURES: Display Shows Time, Date, Distance(Meters), Calories (Cal), Pulse, Time 500m, Strokes, Strokes Per Minute (SPM), Total Strokes, Watts, Resistance, Recovery Profile. Manual Mode Quick Start or Race Programs Manual and Race Goal Programs Time, Distance(Meters), Strokes, Calories and Pulse. Recovery Program 60 second test on Pulse recovery Resistance System 6 levels Sleep feature Auto shutdown after 4 minutes of no use.
Delivery & Setup Options
Club-quality equipment can be rather heavy to move and install. We offer professional exercise equipment delivery and installation to ensure that you get your 2nd Wind. We will install your equipment, confirm your equipment is up and running, and remove boxes and packaging.
Send us an email to inquire about our many delivery options.
Shipping & Distribution Territories
Certain products can only be shipped into states we currently have retail locations. For availability of products outside of our retail locations (MN, IA, ND, SD, NE, MO, OK, AZ, IL, ID, WI) call a store near you. If you live outside of one of these states and do not see shipping options for the product you are interested in, please contact David Egan at: [email protected] or Garret Town at: [email protected] David and/or Garret will be able to assist you with any product shipments outside of our retail store locations.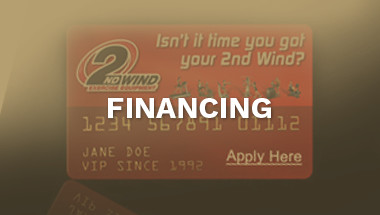 Financing
Before you allow budget limitations to limit your workout regime, be sure to consult with your nearest 2nd Wind store about our financing options that may be available to you.
We've created several customizable programs with our financial partners that will leave you pleasantly surprised at how affordable your workout can be.
Apply for financing online >
Contact your store about special financing offers >