Special Price
$999.00
was
$1,299.00
Schwinn invented Airdyne technology, built its legacy around the power of unlimited wind resistance and has continued to refine the technology to stand out amongst its peers. The Schwinn® AD Pro is built to stand the test of time as well as the rigors of high intensity training. From the performance engineered, perimeter-weighted flywheel for smooth startup and cycling, to the proven strength of the splined solid steel cranks that deliver more power to the pedals, to the moisture repellent double coated steel body construction, the Schwinn® AD Pro can outlast even the most intense athlete!
The new Schwinn® Airdyne® AD Pro leverages the iconic Schwinn air resistance reputation of durability and performance and updates it with a design and feature set in perfect alignment with today's unique fitness challenges and environments. Whether you use it to bring your workouts to a new level or require the perfect total body cardio workout machine for your home; the new Schwinn® Airdyne® AD Pro delivers the latest in air resistance technology for effective and efficient workouts.
Delivery & Setup Options
Club-quality equipment can be rather heavy to move and install. We offer professional exercise equipment delivery and installation to ensure that you get your 2nd Wind. We will install your equipment, confirm your equipment is up and running, and remove boxes and packaging.
Send us an email to inquire about our many delivery options.
Shipping & Distribution Territories
Certain products can only be shipped into states we currently have retail locations. For availability of products outside of our retail locations (MN, IA, ND, SD, NE, MO, OK, AZ, IL, ID, WI) call a store near you. If you live outside of one of these states and do not see shipping options for the product you are interested in, please contact David Egan at: [email protected] or Garret Town at: [email protected] David and/or Garret will be able to assist you with any product shipments outside of our retail store locations.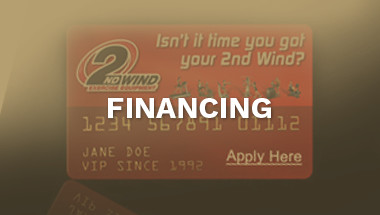 Financing
Before you allow budget limitations to limit your workout regime, be sure to consult with your nearest 2nd Wind store about our financing options that may be available to you.
We've created several customizable programs with our financial partners that will leave you pleasantly surprised at how affordable your workout can be.
Apply for financing online >
Contact your store about special financing offers >