HCI Physiostep LXT Recumbent
Special Price
$2,999.00
was
$3,499.00
The NEW PhysioStep LXT – Recumbent Linear Cross Trainer was proudly designed & developed in the USA to help a diverse range of people meet their personal goals and feel good doing it! Whether it is for weight loss, general health improvement, cardiac rehabilitation, corporate wellness or transitioning from Physical Therapy to Home Exercise, the PhysioStep LXT is the ideal piece of equipment to get you moving!
The PhysioStep LXT gives you an easy and effective low impact total body workout. It combines a stable and stress free recumbent sitting position, with the natural feeling of walking. The innovative Linear Stepping Motion is incredibly smooth and easy on your joints. The PhysioStep LXT has a large, oversized "ultra comfortable" swivel seat that adjusts easily and fully rotates making this unit easily accessible for people with low mobility. Other features include a low profile walk through design & ergo grip handles to work your arm and core muscles. The fully adjustable arms, seat, and seat back accommodate a wide range of users. The oversized large LCD display provides all your workout information in a clear and easy to read format. Built with high quality commercial components and available at an affordable price the PhysioStep LXT is perfect for commercial, medical, rehabilitation or home applications. Let us help you take a Step in the right direction and get your Life moving today!
Delivery & Setup Options
Club-quality equipment can be rather heavy to move and install. We offer professional exercise equipment delivery and installation to ensure that you get your 2nd Wind. We will install your equipment, confirm your equipment is up and running, and remove boxes and packaging.
Send us an email to inquire about our many delivery options.
Shipping & Distribution Territories
Certain products can only be shipped into states we currently have retail locations. For availability of products outside of our retail locations (MN, IA, ND, SD, NE, MO, OK, AZ, IL, ID, WI) call a store near you. If you live outside of one of these states and do not see shipping options for the product you are interested in, please contact David Egan at: [email protected] or Garret Town at: [email protected] David and/or Garret will be able to assist you with any product shipments outside of our retail store locations.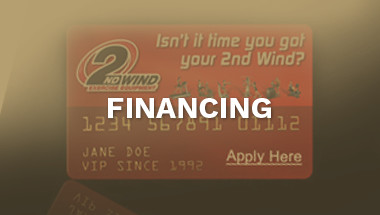 Financing
Before you allow budget limitations to limit your workout regime, be sure to consult with your nearest 2nd Wind store about our financing options that may be available to you.
We've created several customizable programs with our financial partners that will leave you pleasantly surprised at how affordable your workout can be.
Apply for financing online >
Contact your store about special financing offers >