First Degree Fitness Kingston AR Fluid Rower
Special Price
$1,299.00
Regular Price
$1,599.00
The Kingston AR (Adjustable Resistance) Fluid Rower by First Degree Fitness is designed and engineered by professional rowers and craftsman using only the highest degree of quality components – ensuring complete satisfaction in function, performance, and reliability. With its patented Fluid Technology, First Degree Fitness has incorporated the truest emulation of sensation, sight, and sound of real on-water rowing captured in the private setting of your own home.

The Kingston AR Fluid Rower has the capability to allow the rower to control and adjust the resistance from "Feather light" to "Olympic sprint" delivering a silky smooth resistance to the user's effort and instantaneous response to input with no "flat sport".

With water resistance being the most accurate manner in which to simulate actual outdoor rowing, the Kingston AR Fluid Rower provides a smooth and consistent sensation throughout the range of motion of the exercise experience.

The Kingston AR features an advanced computer monitor providing the rower with measurable performance output. With the updated USB connectivity and your computer, you have the ability to record your workout sessions, connect with the internet for online racing, and access the web-based logging and ranking system.

The Kingston AR provides an ergonomically designed seat that rides on precision bearings and rollers for absolute smoothness, an upgraded footboard with advanced heel support, and an innovative soft grip handle to eliminate stress on the hands and wrist during the comfortable, but physical workout.

The upgraded tank density and seals add to the product's overall strength and endurance capabilities for convenient indoor use. Let the new Kingston AR Fluid Rower take you to the next level of rowing.
More Information

| | |
| --- | --- |
| Product Features | Non Folding Frame |
SPECS:
· Adjustable Resistance, from "feather light" to "Olympic sprint" at the turn of a dial.
· Instantly adapts for progressive training, interval training, or multiple users.
· No dead spots! Patented twin tank design with stainless steel flywheel/impeller delivers perfect catch and consistent resistance throughout the entire stroke.
· Ergonomic handle minimizes strain on hands, wrists and forearms.
· Multi-level exercise monitor (with USB port for extended functionality): time, distance, 500M split time, strokes per minute, calories per hour, watts, interval training and (optional) heart rate.
· Computer USB Connection: Record workout sessions, connect with online racing, and access web based logging and ranking system.
· Smooth action seat that shapes to the user with textured finish to prevent slip.
· Simplified assembly and virtually maintenance free.
· Advanced Heel Cradle for fast adjustment, secure heel capture and allows for variable foot placement.
· Active recoil system to facilitate rapid stroke rate via extended bungee length and precision (German INA) dual one-way bearings.
· Dual seat rails in anodized aluminum with low friction seat rollers, concealed for a cleaner, smoother and safer ride.
· Rigid frame construction provides unmatched platform stability.
· Quality transport wheels for ease of movement.
· Length: 2022mm (79.6"), Width: 521mm (20.5"), Height: 572mm (22.5")
· Maximum user weight: 150kg (330lbs)

Delivery & Setup Options
Club-quality equipment can be rather heavy to move and install. We offer professional exercise equipment delivery and installation to ensure that you get your 2nd Wind. We will install your equipment, confirm your equipment is up and running, and remove boxes and packaging.
Send us an email to inquire about our many delivery options.
Shipping & Distribution Territories
Certain products can only be shipped into states we currently have retail locations. For availability of products outside of our retail locations (MN, IA, ND, SD, NE, MO, OK, AZ, IL, ID, WI) call a store near you. If you live outside of one of these states and do not see shipping options for the product you are interested in, please contact David Egan at: [email protected] or Garret Town at: [email protected] David and/or Garret will be able to assist you with any product shipments outside of our retail store locations.
Financing
Before you allow budget restrictions to limit your workout regime, be sure to consult with your nearest 2nd Wind store about what special financing options that may be available to you.
We've created several programs with our financial providers that allow you to pay over time.
Special Financing Available. Apply Now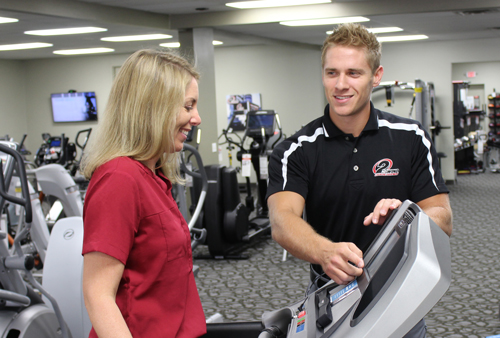 Get the very best price available when you shop in store at 2nd Wind store.
When you visit us in store, our associates make sure you get the BEST deal on your equipment purchase, guaranteed. We will match any online price, help with removal of your old machine and give you access to special financing* and the best delivery service in the market.
*Financing subject to approval. Contact your local store for details.
Take the guess-work out of buying fitness equipment: Try before you buy.
Not only will you get the best price on exercise equipment, but you'll get the best feel! At 2nd Wind we encourage you to bring your running shoes, and let our store associates/certified personal trainers match your running style, body type and budget to the perfect piece of equipment.
Contact us to schedule an appointment at a store near you.