The perfect fitness solution.
Save up to $1,200 now through October 4 on select Vision Fitness cardio machines.
The unique formula of Sprint 8 interval training has been scientifically proven to reduce body fat, boost energy and promote lean muscle. Sprint 8 is available exclusively on consoles of select Vision Fitness cardio machines.
Sale good on in-store or online purchases. Find a store near you and try Sprint 8 for yourself.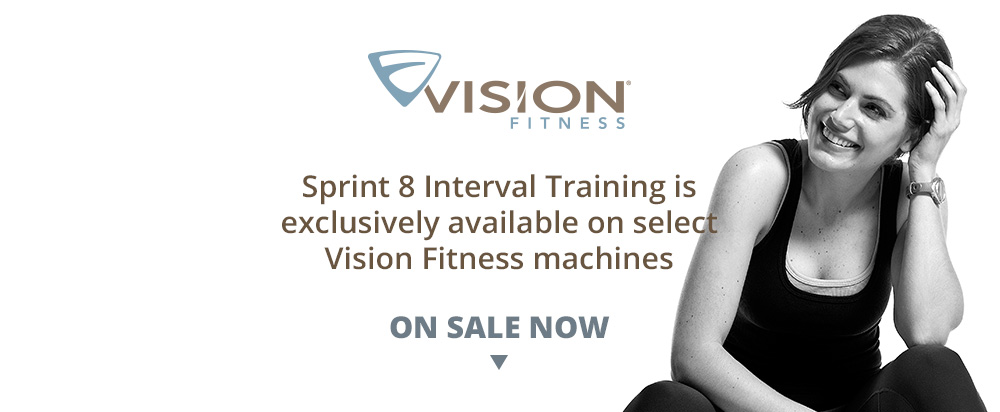 Vision U40 Upright Bike, Vision T40 Non - Folding Treadmill, Vision S7100HRT Suspension Trainer, Vision T80 Treadmill
---
State Fair Season Sale!
We have incredible promotions and pricing available at our State Fair booths during Fair Season! Come check out the season's best savings, instant manufacturer's rebates and exclusive financing options.
Can't make it to a Fair? Find a store near you for incredible specials and exclusive savings available at all 2nd Wind Exercise Locations in all markets.
We have the largest selection of New, Used, Floor Models, Close-outs and Remanufactured equipment around. We sell equipment at all price points and help you find the best piece to match your needs and budget. Start your new exercise routine today, we can help! Don't miss the State Fair season special offers. Visit us today!
Come Visit us at these State Fairs or any 2nd Wind Exercise location:
WI State Fair 8/4 - 8/14 Located in the Wisconsin Expo Center
IA State Fair 8/11 - 8/21 Located in the Varied Industries Building
MN State Fair 8/25 - 9/5 Located on the 2nd floor in the Grandstands
OKC State Fair 9/15 - 9/25 Located in the Oklahoma Expo Hall #3 Building
Tulsa State Fair 9/29 - 10/9 Located in the River Spirit Expo Building
---
Never miss a deal — Contact us today for Direct Deals!