HOIST® has become a leader in the strength training equipment industry through proven effectiveness, durability and versatility. Designed upon these principles, all HOIST Free Weight products are precision built with superb components and unique space saving designs. This bench allows for 3 position seating and is easy to lift and move. Bench is able to handle 1000lbs.
7 adjustable back pad positions from -20º to 80º to accommodate incline, flat, and decline bench exercises 3 adjustable seat positions from 0º to 20º in 10º increments to accommodate varying user heights Thermoplastic Polyurethane covers for back pad adjusters to reduce wear Integrated hand grip and wheels provide tilt 'n roll capability for easy storage Adjustable foot pegs provide leg support
Product Width: 25.00" (64 cm) Product Height: 47.00" (119 cm) Product Length: 65.50" (166 cm) Machine Weight: 77 lbs. (35 kg)
Delivery & Setup Options
Club-quality equipment can be rather heavy to move and install. We offer professional exercise equipment delivery and installation to ensure that you get your 2nd Wind. We will install your equipment, confirm your equipment is up and running, and remove boxes and packaging.
Send us an email to inquire about our many delivery options.
Shipping & Distribution Territories
Certain products can only be shipped into states we currently have retail locations. For availability of products outside of our retail locations (MN, IA, ND, SD, NE, MO, OK, AZ, IL, ID, WI) call a store near you. If you live outside of one of these states and do not see shipping options for the product you are interested in, please contact David Egan at: [email protected] or Garret Town at: [email protected] David and/or Garret will be able to assist you with any product shipments outside of our retail store locations.
Financing
Before you allow budget restrictions to limit your workout regime, be sure to consult with your nearest 2nd Wind store about what special financing options that may be available to you.
We've created several programs with our financial providers that allow you to pay over time.
Special Financing Available. Apply Now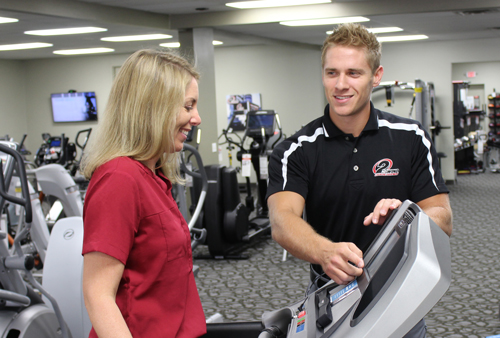 Get the very best price available when you shop in store at 2nd Wind store.
When you visit us in store, our associates make sure you get the BEST deal on your equipment purchase, guaranteed. We will match any online price, help with removal of your old machine and give you access to special financing* and the best delivery service in the market.
*Financing subject to approval. Contact your local store for details.
Take the guess-work out of buying fitness equipment: Try before you buy.
Not only will you get the best price on exercise equipment, but you'll get the best feel! At 2nd Wind we encourage you to bring your running shoes, and let our store associates/certified personal trainers match your running style, body type and budget to the perfect piece of equipment.
Contact us to schedule an appointment at a store near you.