LeMond - Cadence Meter For Revmaster Pro
At last - an effective way to measure individual performance for indoor group cycling. The RevMaster Pilot displays your workout statistics - eliminating the guesswork of indoor cycling class instruction. Classes are more unified, and it is so much easier to use cadence, time, distance, and heart rate factors to help class participants be successful.
At last - an effective measurement device that gives you personal feedback on your workout! The LeMond RevMaster Pilot measures your time, distance, and cadence as you cycle - as well as providing feedback on calories burned and heart rate when a Polar? compatible heart rate chest strap is worn. The Pilot is so easy to use. Simply touch the start button and the Pilot is activated, with an attractive backlit console for easy reading - even in darkened indoor cycling studios. An essential training tool For indoor cycling, the intensity of your workout is determined by the rate at which you cycle (rpm or pedal revolutions per minute) and the intensity of the resistance that you apply. Using feedback provided by the LeMond RevMaster Pilot, you can now vary your workout according to your own personal training goals. Lower cadence levels (rpms) with more resistance and longer time periods is good for strength training - while adding more cadence can help endurance riding or developing short bursts of speed. Heart rate monitoring is also another very effective training tool. A great way to design new cycling classes The secret to keeping indoor cycling class members motivated is to offer exciting classes that help riders achieve their fitness or training goals. Using cadence as a measurement tool, instructors can design new riding profiles that simulate different types of terrain - making it easier for cyclists to achieve the cadence range requested by the instructor. Timed efforts, interval training, and heart rate factors can all be included to create different indoor cycling experiences. More effective class instruction The RevMaster Pilot eliminates the guesswork of indoor cycling instruction! Instead of trying to count the beat of the music to determine pedal cadence, the Pilot gives the user instant feedback. Classes are more unified and it is so much easier to use time, distance, and heart rate factors to help class participants be successful. PLEASE NOTE - THE LEMOND REVMASTER PILOT MUST BE INSTALLED ON THE NEW REVMASTER LOOP HANDLEBARS - WHICH ARE STANDARD ON NEW REVMASTERS OR AVAILABLE AS A LOOP HANDLEBARD UPGRADE KIT
Delivery & Setup Options
Club-quality equipment can be rather heavy to move and install. We offer professional exercise equipment delivery and installation to ensure that you get your 2nd Wind. We will install your equipment, confirm your equipment is up and running, and remove boxes and packaging.
Send us an email to inquire about our many delivery options.
Shipping & Distribution Territories
Certain products can only be shipped into states we currently have retail locations. For availability of products outside of our retail locations (MN, IA, ND, SD, NE, MO, OK, AZ, IL, ID, WI) call a store near you. If you live outside of one of these states and do not see shipping options for the product you are interested in, please contact David Egan at: [email protected] or Garret Town at: [email protected] David and/or Garret will be able to assist you with any product shipments outside of our retail store locations.
Financing
Before you allow budget restrictions to limit your workout regime, be sure to consult with your nearest 2nd Wind store about what special financing options that may be available to you.
We've created several programs with our financial providers that allow you to pay over time.
Special Financing Available. Apply Now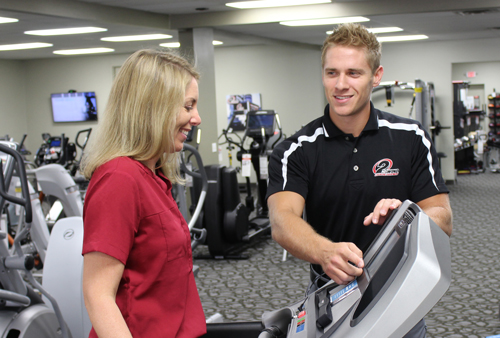 Get the very best price available when you shop in store at 2nd Wind store.
When you visit us in store, our associates make sure you get the BEST deal on your equipment purchase, guaranteed. We will match any online price, help with removal of your old machine and give you access to special financing* and the best delivery service in the market.
*Financing subject to approval. Contact your local store for details.
Take the guess-work out of buying fitness equipment: Try before you buy.
Not only will you get the best price on exercise equipment, but you'll get the best feel! At 2nd Wind we encourage you to bring your running shoes, and let our store associates/certified personal trainers match your running style, body type and budget to the perfect piece of equipment.
Contact us to schedule an appointment at a store near you.