LeMond - Revmaster Pro Spin Bike
Special Price
$1,399.00
Regular Price
$1,599.00
The next generation LeMond RevMaster offers you some great upgrades to the classic model. For maximum riding comfort, the new narrower crank design replicates the geometry of a great road bike. New Cam handles and increased adjustment ranges to seat and handlebars create the best custom fit available and gives you greater muscle involvement. The 4-way microfit also lets you cycle in an upright position or pedal stretched out and low, which is ideal for triathletes. Improved corrosion resistance by using electroless nickel plating and a new 2 piece bottom bracket cartridge make the RevMaster Pro even easier to maintain and service - with most components pre-assembled.
NEW Next Generation X-Frame: Gives you a better ride and allows easy access to all seat, height and handlebar adjustments. Plus – new Bottom bracket cartridge has a 2 piece design for modular service. NEW Cam Handles: Comfortable and easy to use, offers quicker adjustments without the hassle of pop-pins and threaded handles. NEW More Adjustment Ranges: Allows a better fit with more comfort. Improved Corrosion Resistence: New electroles nickel plating is stronger then stainless. Fender With Integrated Brake Assembly: Provides improved braking and doubles as a moisture guard. Kevlar Belt: A Kevlar belt instead of a chain. The result is a smooth and QUIET ride. Our belt never needs to be replaced due to stretch, or oiled like the chain bikes. Brake and Resistence: Designed for ease of use, the resistance knob adjusts easily. Just turn the knob to adjust (increase or decrease) the intensity of your workout. By simply pressing down on the same knob, the braking system activates quickly and safely. Micro turn adjustment allows for smooth, safe transitions to higher intensity levels. Custom Cranks: Strong BMX custom cranks & bottombracket designed to withstand greater force loads then conventional bikes. Easy to switch seat options: Post will accommodate personal preferences.
More Information

| | |
| --- | --- |
| Product Features | Folding Frame |
Product Specifications Height: 46" (106.7 cm) Length: 42" (116.8 cm) Width: 23" (58.4 cm) Weight: 143 lbs. (65 kg) The RevMaster frame is made using a 17 step manufacturing process for quality and durability.
Delivery & Setup Options
Club-quality equipment can be rather heavy to move and install. We offer professional exercise equipment delivery and installation to ensure that you get your 2nd Wind. We will install your equipment, confirm your equipment is up and running, and remove boxes and packaging.
Send us an email to inquire about our many delivery options.
Shipping & Distribution Territories
Certain products can only be shipped into states we currently have retail locations. For availability of products outside of our retail locations (MN, IA, ND, SD, NE, MO, OK, AZ, IL, ID, WI) call a store near you. If you live outside of one of these states and do not see shipping options for the product you are interested in, please contact David Egan at: [email protected] or Garret Town at: [email protected] David and/or Garret will be able to assist you with any product shipments outside of our retail store locations.
Financing
Before you allow budget restrictions to limit your workout regime, be sure to consult with your nearest 2nd Wind store about what special financing options that may be available to you.
We've created several programs with our financial providers that allow you to pay over time.
Special Financing Available. Apply Now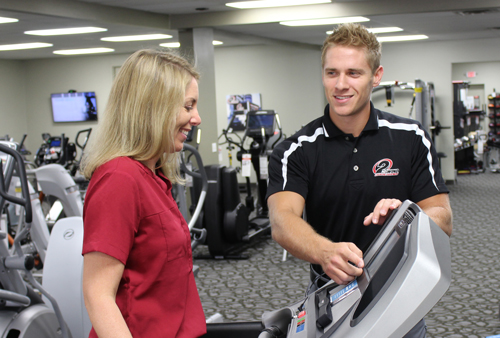 Get the very best price available when you shop in store at 2nd Wind store.
When you visit us in store, our associates make sure you get the BEST deal on your equipment purchase, guaranteed. We will match any online price, help with removal of your old machine and give you access to special financing* and the best delivery service in the market.
*Financing subject to approval. Contact your local store for details.
Take the guess-work out of buying fitness equipment: Try before you buy.
Not only will you get the best price on exercise equipment, but you'll get the best feel! At 2nd Wind we encourage you to bring your running shoes, and let our store associates/certified personal trainers match your running style, body type and budget to the perfect piece of equipment.
Contact us to schedule an appointment at a store near you.