LifeSpan - TR800DT7 Treadmill Desk
Special Price
$1,799.00
Regular Price
$2,199.00
The TR800-DT7 is our light-use treadmill desk built for individuals or small groups looking to walk and work. The desk lets you easily and conveniently adjust the desktop height with its electric height adjustment and includes memory support for two user settings. Additionally, the TR800-DT7 is Bluetooth-enabled letting you wirelessly sync and track activity with our apps and the LifeSpan Club — one free membership is included with your purchase.
Included Club Membership A full membership in LifeSpan Club is included with each treadmill desk. A one-stop-shop for all of your health and activity information, this account securely connects with your desk's built-in Bluetooth to collect all of your activity data, and display progress towards your personal health goals. Monitor integration with apps via bluetooth Bluetooth Connectivity with LifeSpan Apps The treadmill desk is Bluetooth-enabled to wirelessly sync your activity data to your Mac computer or Android device using one of our free apps. Use your app to track steps taken, walking time, calories burned and distance traveled as you walk. Then sync your data with your online Club account to record your walking history — one free Club membership is included with your purchase. Desk adjusts for users 4'10 Electric Height Adjustment Desk > The treadmill desk comfortably fits users from 4'10" to 6'8" tall. The stable desktop frame is unattached from the treadmill and stands alone, ensuring that any movement of the treadmill stays isolated and is not transferred to the desktop. The desk allows users to easily and conveniently adjust the desktop height with its electric height adjustment feature and includes memory support for two user height settings. dt7 desk console Easy Access Console This console is located for easy access without taking away your desktop area. The digital LED display shows steps taken, walking time, calories burned, distance traveled and walking belt speed. The console has a safety key that shuts down the treadmill when removed. The padded armrests add comfort and support to help avoid wrist fatigue during long work sessions. Intelli-guard and intelli-step features Intelli-Guard™ and Intelli-Step™ Features The TR800-DT7 comes standard with two of LifeSpan trademarked technologies: The built-in Intelli-Guard pauses the belt if you step off during your workout. When your foot no longer continuously strikes the belt surface for 20 seconds, your treadmill will automatically pause. The Intelli-Step feature counts and records the number of steps you take and displays them on the console. This feature automatically detects the impact of your foot striking the treadmill belt. Increasing step count is one of the foundations of the American Heart Association's recommendations for improving heart and overall health.
Delivery & Setup Options
Club-quality equipment can be rather heavy to move and install. We offer professional exercise equipment delivery and installation to ensure that you get your 2nd Wind. We will install your equipment, confirm your equipment is up and running, and remove boxes and packaging.
Send us an email to inquire about our many delivery options.
Shipping & Distribution Territories
Certain products can only be shipped into states we currently have retail locations. For availability of products outside of our retail locations (MN, IA, ND, SD, NE, MO, OK, AZ, IL, ID, WI) call a store near you. If you live outside of one of these states and do not see shipping options for the product you are interested in, please contact David Egan at: [email protected] or Garret Town at: [email protected] David and/or Garret will be able to assist you with any product shipments outside of our retail store locations.
Financing
Before you allow budget restrictions to limit your workout regime, be sure to consult with your nearest 2nd Wind store about what special financing options that may be available to you.
We've created several programs with our financial providers that allow you to pay over time.
Special Financing Available. Apply Now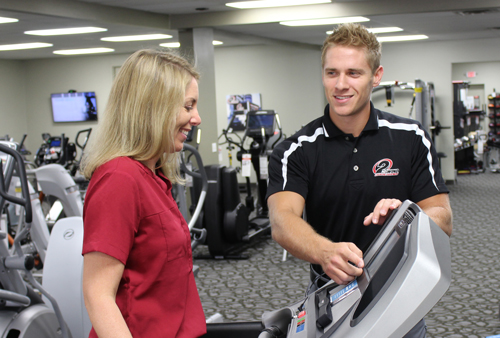 Get the very best price available when you shop in store at 2nd Wind store.
When you visit us in store, our associates make sure you get the BEST deal on your equipment purchase, guaranteed. We will match any online price, help with removal of your old machine and give you access to special financing* and the best delivery service in the market.
*Financing subject to approval. Contact your local store for details.
Take the guess-work out of buying fitness equipment: Try before you buy.
Not only will you get the best price on exercise equipment, but you'll get the best feel! At 2nd Wind we encourage you to bring your running shoes, and let our store associates/certified personal trainers match your running style, body type and budget to the perfect piece of equipment.
Contact us to schedule an appointment at a store near you.