LifeSpan - C3-DT3 Under Desk Bike
Special Price
$799.00
Regular Price
$1,199.00
The C3-DT3 is perfect for those looking to add activity into their workday and would rather pedal and work than walk and work. The compact upright bike is small enough to fit under most standing desks. Use your existing standing/height adjustable desk or choose the desk that is right for you and pair it with our bike and console.
Included Club Membership A full membership in LifeSpan Club is included with each bike desk. A one-stop-shop for all of your health and activity information, this account securely connects with your desk's built-in Bluetooth to collect all of your activity data, and display progress towards your personal health goals. Monitor integration with apps via bluetooth Bluetooth Connectivity with LifeSpan Apps The bike desk is Bluetooth-enabled to wirelessly sync your activity data to your Mac computer or Android device using one of our free apps. Use your app to track pedal revolutions, pedal time, calories burned and distance traveled as you pedal. Then sync your data with your online Club account to record your data history — one free Club membership is included with your purchase. Dt3 desktop console Small, Contemporary Console The small, contemporary designed console is 12.9" L x 2" H x 3.25" D, the perfect size to discretely sit on your desk so it will not get in the way of your work. The digital LED display shows resistance level, time pedaled, calories burned, distance traveled and pedaling speed. Desktop height adjustment Comfortable, Adjustable Seat The cushioned seat has 19-height adjustment settings to ensure a perfect fit and comfortable ride. These adjustments range from 36.5" up to 46.5" measuring from the top of the seat to the fully extended pedal. This supports most users from 5'0" to 6'8" tall. Bike console usb charging port USB Charging Port The C3-DT3 comes with one USB port for charging electronic portable devices. * You will not be able to save your activity data to a USB via this port, it is used for charging purposes only. Bike transport Easy Transport The bike comes with two rear mounted transport wheels letting you easily move the bike. With its compact design, the bike can be rolled completely under most stand-up desks for easy storage allowing you to stand and work when you're not using the bike.
Delivery & Setup Options
Club-quality equipment can be rather heavy to move and install. We offer professional exercise equipment delivery and installation to ensure that you get your 2nd Wind. We will install your equipment, confirm your equipment is up and running, and remove boxes and packaging.
Send us an email to inquire about our many delivery options.
Shipping & Distribution Territories
Certain products can only be shipped into states we currently have retail locations. For availability of products outside of our retail locations (MN, IA, ND, SD, NE, MO, OK, AZ, IL, ID, WI) call a store near you. If you live outside of one of these states and do not see shipping options for the product you are interested in, please contact David Egan at: [email protected] or Garret Town at: [email protected] David and/or Garret will be able to assist you with any product shipments outside of our retail store locations.
Financing
Before you allow budget restrictions to limit your workout regime, be sure to consult with your nearest 2nd Wind store about what special financing options that may be available to you.
We've created several programs with our financial providers that allow you to pay over time.
Special Financing Available. Apply Now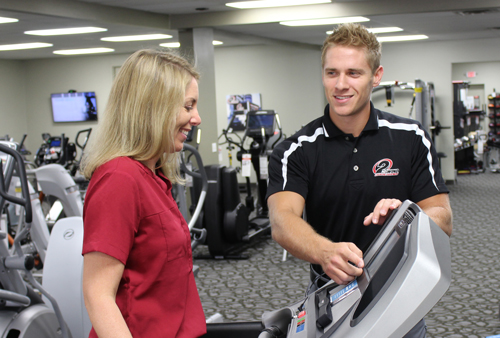 Get the very best price available when you shop in store at 2nd Wind store.
When you visit us in store, our associates make sure you get the BEST deal on your equipment purchase, guaranteed. We will match any online price, help with removal of your old machine and give you access to special financing* and the best delivery service in the market.
*Financing subject to approval. Contact your local store for details.
Take the guess-work out of buying fitness equipment: Try before you buy.
Not only will you get the best price on exercise equipment, but you'll get the best feel! At 2nd Wind we encourage you to bring your running shoes, and let our store associates/certified personal trainers match your running style, body type and budget to the perfect piece of equipment.
Contact us to schedule an appointment at a store near you.