Special Price
$2,999.00
Regular Price
$3,299.00
The Zero Runner cracked the code to replicate real running motion with zero impact. Incorporating the Zero Runner into your training schedule allows you to continue to add the miles but without the impact on your joints. Extend your running career, run faster, become more efficient and strengthen your muscles by cross-training with zero-impact running. The pedals are independent so you have free motion and flexibility to create a customized running stride that feels best to your body. The ingenious hip and knee joints on the Zero Runner facilitate this custom motion and natural stride – just like running outdoors The Zero Runner also educates you about your running gait and form. Built-in intelligence traces your gait while you run so you can track the health of your gait and ensure that you are performing at mile 13 as strong as you did at mile one.
Zero-Impact Running Natural motion that replicates real running Features a hip and knee joint Intelligence that traces your gait Track the health of your stride Console displays all your favorite running stats SmartLink, Bluetooth® connectivity Polar and ANT+ wireless heart rate Whisper quiet operation Cordless power operation Gait: By suspending the body, the Zero Runner frames your physique and protects your joints while you run. No limitations, no moving belt and no fixed path -- you create the movement and pace so it's uniquely yours. Unlike any fitness machine ever, the Zero Runner facilitates the ultimate freedom. Smarter Training: Doing too much, too soon or too fast can cause an injury, sideline you and delay your training. Incorporating cross training with the Zero Runner has never been easier with the CROSS CiRCUIT program and the SmartLink app. CROSS CiRCUIT combines cardio intervals on the Zero Runner with strength training or stretching exercises next to the machine for the ultimate in effectiveness and efficiency.
More Information

| | |
| --- | --- |
| Product Features | Folding Frame |
Delivery & Setup Options
Club-quality equipment can be rather heavy to move and install. We offer professional exercise equipment delivery and installation to ensure that you get your 2nd Wind. We will install your equipment, confirm your equipment is up and running, and remove boxes and packaging.
Send us an email to inquire about our many delivery options.
Shipping & Distribution Territories
Certain products can only be shipped into states we currently have retail locations. For availability of products outside of our retail locations (MN, IA, ND, SD, NE, MO, OK, AZ, IL, ID, WI) call a store near you. If you live outside of one of these states and do not see shipping options for the product you are interested in, please contact David Egan at: [email protected] or Garret Town at: [email protected] David and/or Garret will be able to assist you with any product shipments outside of our retail store locations.
Financing
Before you allow budget restrictions to limit your workout regime, be sure to consult with your nearest 2nd Wind store about what special financing options that may be available to you.
We've created several programs with our financial providers that allow you to pay over time.
Special Financing Available. Apply Now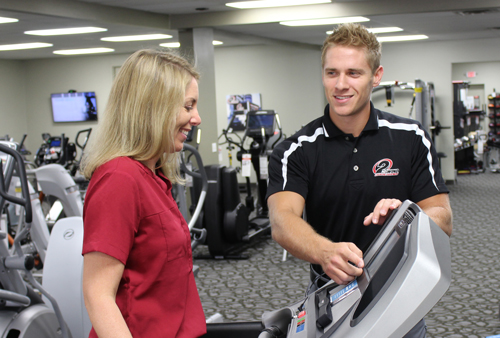 Get the very best price available when you shop in store at 2nd Wind store.
When you visit us in store, our associates make sure you get the BEST deal on your equipment purchase, guaranteed. We will match any online price, help with removal of your old machine and give you access to special financing* and the best delivery service in the market.
*Financing subject to approval. Contact your local store for details.
Take the guess-work out of buying fitness equipment: Try before you buy.
Not only will you get the best price on exercise equipment, but you'll get the best feel! At 2nd Wind we encourage you to bring your running shoes, and let our store associates/certified personal trainers match your running style, body type and budget to the perfect piece of equipment.
Contact us to schedule an appointment at a store near you.