Special Price
$3,899.00
Regular Price
$4,299.00
The all-new ZR8 was built with one goal in mind – performance. And performance means many things – power, speed, endurance, efficiency, versatility and recovery. With the ZR8 premium zero-impact running machine, you're equipped to take your running program to the next level.
What makes the ZR8 so unique are the aircraft-grade aluminum legs that facilitate a faster cadence, the lightweight pedals, higher resistance range, performance grips for progression training and technology that helps correct imbalances. Unlike anything available to runners, every detail of the ZR8 is engineered for unprecedented futuristic performance, efficiency, power and speed. Are you ready to run faster?
The all-new ZR8 was built with one goal in mind – performance.
Aluminum Legs: Made of aircraft-grade aluminum and redesigned lightweight pedals, the ZR8 boasts light legs and a fast cadence. With the smooth, natural motion, the Zero Runner is running…only better…so you can focus on greater efficiency and enhanced performance. And with the reinforced frame, the rock-solid ZR8 is built for maximum stability and to take a beating, over and over, to the finish line.
Smarter Workouts:Take advantage of additional expertise in creating customized training regimens and goal-based plans with SmartLink. Focus on endurance, strength or active recovery by following routines developed using input from fitness professionals, athletic coaches and physical therapists to stimulate progress and performance.
Runners like to run. A lot. And sometimes that's all they want to do, which can cause an injury and sideline them – resulting in bad news for race preparation. But cross training helps strengthen the entire body for greater fitness and better overall balance.
CROSS CiRCUIT makes cross training simple. It combines cardio intervals on the Zero Runner with strength training or stretching exercises next to the machine for exceptional effectiveness and efficiency. Runners still get to enjoy their runs – but now complement them with valuable strength and stretching work to address weak links, build the core and attend to the upper body. Not only is cross training good for you now, but can ultimately extend your running career.
More Information

| | |
| --- | --- |
| Product Features | Folding Frame |
Delivery & Setup Options
Club-quality equipment can be rather heavy to move and install. We offer professional exercise equipment delivery and installation to ensure that you get your 2nd Wind. We will install your equipment, confirm your equipment is up and running, and remove boxes and packaging.
Send us an email to inquire about our many delivery options.
Shipping & Distribution Territories
Certain products can only be shipped into states we currently have retail locations. For availability of products outside of our retail locations (MN, IA, ND, SD, NE, MO, OK, AZ, IL, ID, WI) call a store near you. If you live outside of one of these states and do not see shipping options for the product you are interested in, please contact David Egan at: [email protected] or Garret Town at: [email protected] David and/or Garret will be able to assist you with any product shipments outside of our retail store locations.
Financing
Before you allow budget restrictions to limit your workout regime, be sure to consult with your nearest 2nd Wind store about what special financing options that may be available to you.
We've created several programs with our financial providers that allow you to pay over time.
Special Financing Available. Apply Now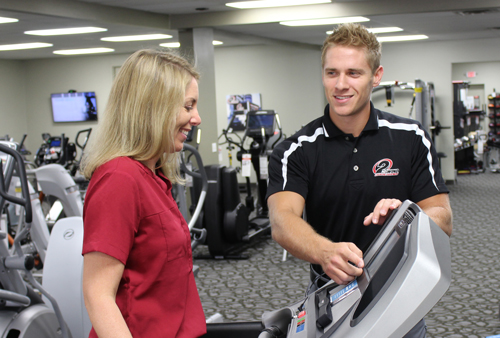 Get the very best price available when you shop in store at 2nd Wind store.
When you visit us in store, our associates make sure you get the BEST deal on your equipment purchase, guaranteed. We will match any online price, help with removal of your old machine and give you access to special financing* and the best delivery service in the market.
*Financing subject to approval. Contact your local store for details.
Take the guess-work out of buying fitness equipment: Try before you buy.
Not only will you get the best price on exercise equipment, but you'll get the best feel! At 2nd Wind we encourage you to bring your running shoes, and let our store associates/certified personal trainers match your running style, body type and budget to the perfect piece of equipment.
Contact us to schedule an appointment at a store near you.