GoFit Elevated Chin Up Station
Includes 1 Elevated Chin Up Station with all assembly hardware, laminated exercise flip book, parts and assembly instructions Weight Limit: 300 Lbs Available Color: Red Accessories Available for Separate Purchase: Ab Straps Wipe clean with damp cloth and mild soap, air dry This item is not a toy and should not be used as such. Use only as directed and intended Warranty for life against manufacture defect. Damage due to use or mis-use is not covered under the GoFit warranty.
The Elevated Chin Up Station takes chin ups to a new level — literally. Our multi-use Chin Up Station incorporates a new patent-pending design which elevates you above the door frame giving more clearance and a full range of motion for a better workout. The Elevated Chin Up Station instantly and easily mounts in a standard doorway with no screws, using leverage and gravity. It may be removed quickly and easily at any time with no tools. The Chin Up Station can be used for chin ups and pull ups in several hand positions at two elevations, as well as sit ups, pushups and dips when mounted low or placed on the floor. Abdominal straps are sold separately and are great for working your abs and obliques. Ab Strap eyebolts are included with the ECS and are easy to install. Constructed of molded steel and painted with durable enamel, the GoFit Elevated Chin Up Station is built to last. The unit has 3 foam hand grip locations and padded tubing where the unit contacts with the door frame. Fits most standard-sized doorways 32" to 34". A solid and secured door frame is required for proper installation.
Delivery & Setup Options
Club-quality equipment can be rather heavy to move and install. We offer professional exercise equipment delivery and installation to ensure that you get your 2nd Wind. We will install your equipment, confirm your equipment is up and running, and remove boxes and packaging.
Send us an email to inquire about our many delivery options.
Shipping & Distribution Territories
Certain products can only be shipped into states we currently have retail locations. For availability of products outside of our retail locations (MN, IA, ND, SD, NE, MO, OK, AZ, IL, ID, WI) call a store near you. If you live outside of one of these states and do not see shipping options for the product you are interested in, please contact David Egan at: [email protected] or Garret Town at: [email protected] David and/or Garret will be able to assist you with any product shipments outside of our retail store locations.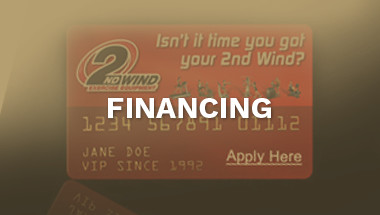 Financing
Before you allow budget limitations to limit your workout regime, be sure to consult with your nearest 2nd Wind store about our financing options that may be available to you.
We've created several customizable programs with our financial partners that will leave you pleasantly surprised at how affordable your workout can be.
Apply for financing online >
Contact your store about special financing offers >