Teeter Hang Ups - Inversion Table
With over 2 million users, Teeter Hang Ups leads the inversion market as the definitive inversion products brand.
A few minutes a day can help
Relieve Back PainRelax muscles, rejuvenate discs and reduce pressure
Ease StressRelease tension in shoulders, neck & back
Increase Flexibility
Improve functional fitness for an active, healthy lifestyle
Build Core Strength
Strengthen core muscles with inverted exercises.
Teeter's ComforTrak™ Series Inversion Tables enhance the user experience to achieve the ultimate in joint and back pain relief through precision balancing, patented stretch grips and an innovative bed design that accommodates pressure point and decompression accessories. Take inversion to the next level with bestrated and most customizable inversion table on the market. In just a few minutes a day, achieve a natural stretch to help improve the health of your spine and joints, increase flexibility, and build strength with inverted exercises. Independent Quality-Assurance Tested to Highest Safety Standard: Voluntary compliance to UL's inversion table safety standard makes Teeter Hang Ups the only inversion brand with certified quality. • Rated #1 Inversion Table: Teeter Hang Ups outlasts and outperforms the competition in product evaluation tests. Rated by Dynamark Engineering as the best inversion table for endurance, strength, rotation control, and ease of assembly. • ComforTrak™ Bed: Built for the benefits with a pressure-reducing design that maximizes comfort and flexes with the user to enhance joint mobilization. Features built-in inversion grips for added stretching and decompression, and an innovative "track" design that accommodates optional accessories; Adjustable Acupressure Nodes and Lumbar Bridge (sold separately). • Optimum Decompression Surface: The smooth surface reduces friction, allowing the body to slide and achieve the optimum decompressive stretch. • No Tear, No Stain Construction: The ComforTrak Bed is more durable than typical nylon or vinyl beds vulnerable to wear and tear. The easy-to-clean surface ensures pristine appearance over years of use. • Stretch Max Handles: Robust handles with angle guide offer greater user assistance while becoming familiar with inversion and enhanced stretching options for experienced inverters. • Ergo-Embrace™ Supports: Pressure-reducing specialty foam cups surround the ankles, distributing body weight comfortably around the foot and heel. This design greatly reduces ankle discomfort to allow for a relaxing and secure user experience.• Ankle Comfort Dial™: The foot platform design dials up or down for smaller or larger feet, allowing a comfortable and secure fit for the ankle clamps. • Precision Balancing: Compared with competing brands, engineering tests have shown that Teeter inversion tables are the most precisely balanced. The superior design allows controlled oscillation with minimal effort, promoting fluid movement in the joints, and allows secure lockout in full inversion for advanced exercises and stretching. • Smooth, Quiet Rotation: Specialized pivot bearings ensure a lifetime of squeak-free rotation. • Pre-set Rotation Control: The adjustable or removable tether strap allows you to easily predetermine your maximum angle of inversion. • Steel Frame with Inversion Grip: The heavy-duty steel frame base features raised grips to enhance stretching and decompression. Corner feet increase the A-frame base by 20%, and reduce sliding on hard surfaces. • Unique and Patented Security Features: Auto-locking hinges, cam locks, and heat-treated steel parts create a product that is more secure and more reliable. • High Quality Finishes: Features scratch-resistant powder coating and heat-treated steel. • Quick Storage: Folds in just a few seconds to 20" x 28.75" x 66" (50.8 x 73 x 167.6 cm). • Value Added: Comes with a laminated Owner's Manual attached to the frame for quickreference and an Instructional DVD to guide you through assembly and use; DVD Bonus
Delivery & Setup Options
Club-quality equipment can be rather heavy to move and install. We offer professional exercise equipment delivery and installation to ensure that you get your 2nd Wind. We will install your equipment, confirm your equipment is up and running, and remove boxes and packaging.
Send us an email to inquire about our many delivery options.
Shipping & Distribution Territories
Certain products can only be shipped into states we currently have retail locations. For availability of products outside of our retail locations (MN, IA, ND, SD, NE, MO, OK, AZ, IL, ID, WI) call a store near you. If you live outside of one of these states and do not see shipping options for the product you are interested in, please contact David Egan at: [email protected] or Garret Town at: [email protected] David and/or Garret will be able to assist you with any product shipments outside of our retail store locations.
Financing
Before you allow budget restrictions to limit your workout regime, be sure to consult with your nearest 2nd Wind store about what special financing options that may be available to you.
We've created several programs with our financial providers that allow you to pay over time.
Special Financing Available. Apply Now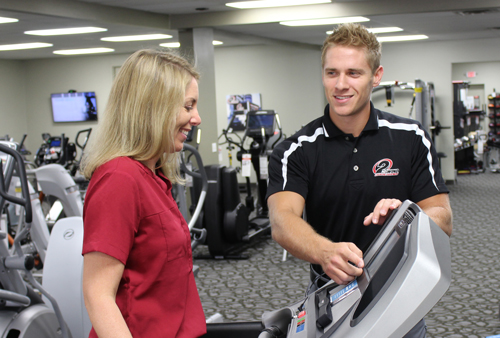 Get the very best price available when you shop in store at 2nd Wind store.
When you visit us in store, our associates make sure you get the BEST deal on your equipment purchase, guaranteed. We will match any online price, help with removal of your old machine and give you access to special financing* and the best delivery service in the market.
*Financing subject to approval. Contact your local store for details.
Take the guess-work out of buying fitness equipment: Try before you buy.
Not only will you get the best price on exercise equipment, but you'll get the best feel! At 2nd Wind we encourage you to bring your running shoes, and let our store associates/certified personal trainers match your running style, body type and budget to the perfect piece of equipment.
Contact us to schedule an appointment at a store near you.