The TRX Xmount is a small and sturdy piece of hardware that provides an easy anchor point for your TRX Suspension Trainer.
Have the perfect space for your TRX Suspension Trainer but no anchor point? The TRX Xmount is a solid, discrete solution. Measuring 4.5" in diameter, this high quality steel plate easily attaches to any wall, vertical stud or secure overhead beam and supports all TRX Suspension Trainer models. Turn any space into your own dedicated training room.
This Product Contains:
Two Wood Stud Lag Bolts (3/8" x 3")
Two Washers
1 Xmount
Installation Instructions
Delivery & Setup Options
Club-quality equipment can be rather heavy to move and install. We offer professional exercise equipment delivery and installation to ensure that you get your 2nd Wind. We will install your equipment, confirm your equipment is up and running, and remove boxes and packaging.
Send us an email to inquire about our many delivery options.
Shipping & Distribution Territories
Certain products can only be shipped into states we currently have retail locations. For availability of products outside of our retail locations (MN, IA, ND, SD, NE, MO, OK, AZ, IL, ID, WI) call a store near you. If you live outside of one of these states and do not see shipping options for the product you are interested in, please contact David Egan at: [email protected] or Garret Town at: [email protected] David and/or Garret will be able to assist you with any product shipments outside of our retail store locations.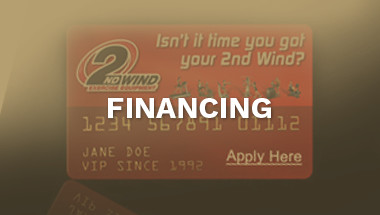 Financing
Before you allow budget limitations to limit your workout regime, be sure to consult with your nearest 2nd Wind store about our financing options that may be available to you.
We've created several customizable programs with our financial partners that will leave you pleasantly surprised at how affordable your workout can be.
Apply for financing online >
Contact your store about special financing offers >