Total Gym XLS - Remanufactured
Special Price
$699.00
Regular Price
$1,199.00
Total Gym XLS is a full body workout system that recreates and strengthens the way your body executes daily physical activities and stores those functions in your muscle memory. A top-of-the-line home bodyweight training system that delivers the optimum functional training experience, Total Gym XLS works multiple muscle groups together and allows you to train more productively. The result is full-body conditioning and extraordinary results at every level—for the beginning exerciser to the elite athlete. The Total Gym brand is trusted by more than 4 million consumers to provide excellence in product design and functionality.
Total Gym XLS is a REMANUFACTURED product. All parts and accessories are included and guaranteed.
We also offer the same warranty as if the product was brand new. You will receive a guarantee of 6 months warranty on parts and a lifetime guarantee on the frame of the Total Gym XLS. We purchase products that have been returned to the manufacturer. Some returns have never been out of the box. We pass on the savings to you. You may notice some minor cosmetic blemishes on the product.
With this product in your home, you have everything you need to start your own workout program, to tone and strengthen the important muscle groups of your upper and lower body. This is vital for all of us, regardless of age, sex, or fitness level, and regardless of whether your primary goal is body sculpting, weight control, health maintenance, or more energy for daily activities. Strength training not only tones and conditions the muscles we use everyday to stand, walk, lift, and turn; it can actually transform our body composition. By reducing body fat and increasing the proportion of lean muscle in our bodies, strength training can effectively turn up our metabolic thermostat, so that we burn up to 30% more calories all the time, no matter what we're doing.
Delivery & Setup Options
Club-quality equipment can be rather heavy to move and install. We offer professional exercise equipment delivery and installation to ensure that you get your 2nd Wind. We will install your equipment, confirm your equipment is up and running, and remove boxes and packaging.
Send us an email to inquire about our many delivery options.
Shipping & Distribution Territories
Certain products can only be shipped into states we currently have retail locations. For availability of products outside of our retail locations (MN, IA, ND, SD, NE, MO, OK, AZ, IL, ID, WI) call a store near you. If you live outside of one of these states and do not see shipping options for the product you are interested in, please contact David Egan at: [email protected] or Garret Town at: [email protected] David and/or Garret will be able to assist you with any product shipments outside of our retail store locations.
Financing
Before you allow budget restrictions to limit your workout regime, be sure to consult with your nearest 2nd Wind store about what special financing options that may be available to you.
We've created several programs with our financial providers that allow you to pay over time.
Special Financing Available. Apply Now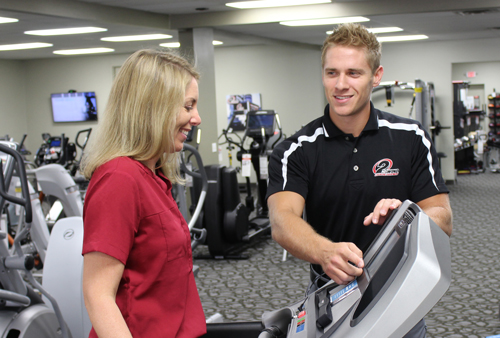 Get the very best price available when you shop in store at 2nd Wind store.
When you visit us in store, our associates make sure you get the BEST deal on your equipment purchase, guaranteed. We will match any online price, help with removal of your old machine and give you access to special financing* and the best delivery service in the market.
*Financing subject to approval. Contact your local store for details.
Take the guess-work out of buying fitness equipment: Try before you buy.
Not only will you get the best price on exercise equipment, but you'll get the best feel! At 2nd Wind we encourage you to bring your running shoes, and let our store associates/certified personal trainers match your running style, body type and budget to the perfect piece of equipment.
Contact us to schedule an appointment at a store near you.