Trak Handle Sport Cable Attachment
The patented TrakHandle Sport is included on cable machines by the worlds premium fitness brands including TuffStuff, Promaxima and Pulse Fitness. Trak Fitness handles are the only handles that allow multi-plane movements via our patented 3-axis rotation technology. Maximize gains with Full Range of Motion exercises. Improve neuromuscular efficiency. Avoid muscle imbalance and arthrokinetic dysfunction caused by using other exercise handles.
Maximize gains by working muscles through their Full Range Of Motion (ROM) with Rotational Movement. Full Range Of Motion exercises are critical to achieve the greatest gains in muscular development. And rotational movement is the only way to achieve full range of motion. (Read more about ROM and Rotational Movement below) Expand the functionality of existing cable exercise equipment. Trak Fitness cable attachments allow users to perform multi-plane exercise movements which cannot be performed with any other cable attachments to the restrictive nature of other attachments. Improve neuromuscular efficiency and minimize kinetic chain dysfunction & injury caused by standard cable attachments. Standard cable attachments and exercise handles restrict rotational and multi-plane movements and prevent proper alignment of the wrist, elbow and shoulder joints. These restrictions force the user into faulty movement patterns that can lead to muscle imbalance, poor neuromuscular control and arthrokinetic dysfunction which can lead to pain and injury to the joints and ligaments. The TrakHandle Sport and other Trak Fitness cable attachments are the only cable attachments that allow ergonomically movement and minimize repetitive stress injuries. (Read More about the problems with existing cable handles.) Reduces Cost. The TrakHandle Sport outlasts typical handles by several lifetimes which is why we back it with a 3 year warranty.
The TrakHandle Sport is the standard of excellence in the Fitness equipment industry. Use the TrakHandle Sport to improve the functionality of any cable exercise machine including cable crossovers, functional trainers, Pilates equipment, Total Gyms, resistance bands, suspension trainers and more.
Delivery & Setup Options
Club-quality equipment can be rather heavy to move and install. We offer professional exercise equipment delivery and installation to ensure that you get your 2nd Wind. We will install your equipment, confirm your equipment is up and running, and remove boxes and packaging.
Send us an email to inquire about our many delivery options.
Shipping & Distribution Territories
Certain products can only be shipped into states we currently have retail locations. For availability of products outside of our retail locations (MN, IA, ND, SD, NE, MO, OK, AZ, IL, ID, WI) call a store near you. If you live outside of one of these states and do not see shipping options for the product you are interested in, please contact David Egan at: [email protected] or Garret Town at: [email protected] David and/or Garret will be able to assist you with any product shipments outside of our retail store locations.
Financing
Before you allow budget restrictions to limit your workout regime, be sure to consult with your nearest 2nd Wind store about what special financing options that may be available to you.
We've created several programs with our financial providers that allow you to pay over time.
Special Financing Available. Apply Now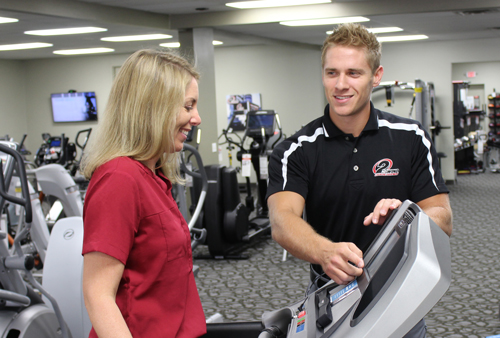 Get the very best price available when you shop in store at 2nd Wind store.
When you visit us in store, our associates make sure you get the BEST deal on your equipment purchase, guaranteed. We will match any online price, help with removal of your old machine and give you access to special financing* and the best delivery service in the market.
*Financing subject to approval. Contact your local store for details.
Take the guess-work out of buying fitness equipment: Try before you buy.
Not only will you get the best price on exercise equipment, but you'll get the best feel! At 2nd Wind we encourage you to bring your running shoes, and let our store associates/certified personal trainers match your running style, body type and budget to the perfect piece of equipment.
Contact us to schedule an appointment at a store near you.