Find a store near you
and click on their craigslist listing link. Remember, this is only a sampling! Inventory changes daily and we can help you find the right machine for you even if it's not in stock near you.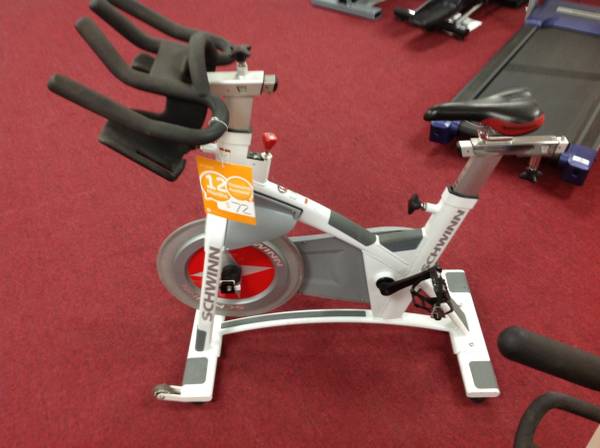 Shown above: Matrix Hybrid H7XE | NoridicTrack Upright Bike | Schwinn AC Performance Spin Bike | Tru CS800 with Touch Screen console
Shop for a Used
Exercise Bike
Why buy new when slightly used will do? Our fitness experts will match you with the right used exercise bike for your goals, lifestyle and budget. Learn more or contact us today.
Sell or Trade in
Your Used Equipment
Ready for an upgrade? We want your used gear! Our team of experts is excited to assist you and make sure you get the very best deal on your used exercise equipment. Learn more or contact us today.
Save Big with 2nd Wind's Used Exercise Bike Program
If you're in the market for an exercise bike, you can slash the price you pay in half or more by buying used. And when you buy from 2nd Wind, the nation's largest specialty fitness dealer, you get the widest brand selection and very best value available. We carry used Horizon Fitness, Vision Fitness, Life Fitness and Life Span Exercise Bikes, to name a few.

Are you looking for a specific model of exercise bike? If we don't have exactly what you're looking for on hand, our experienced fitness experts will scour the market and find it for you. We rigorously inspect and test every bike until it's good as new. You can rest assured you'll get a used exercise bike of the highest quality and durability, thanks to the exceptional attention to detail of our experienced fitness technicians. Buying a used exercise bike is the best way to propel yourself toward your fitness goals. Contact us today to learn about current selection and find a machine that's right for you. Isn't it time you got your second wind?
---
Get a Great Deal with 2nd Wind's Equipment Trade-In Program
Do you have old exercise equipment that is collecting dust? Are you ready for an upgrade? Trading in your used exercise gear is a great way to save on the cost of new equipment. Our fitness experts will work with you to assess your equipment and discover its true value so you can get a great deal.