Stamina - Folding Rebounder/Mini Tramp
Folding Rebounder/Mini Tramp
From beginner to advanced fitness enthusiast, the Stamina® InTone® Plus 38• Rebounder is a fun, low impact cardiovascular workout that tones your legs, abs, buttocks, and back. Add the resistance tubes to your workout to strengthen your arms, back, and chest. You will have more energy, increase your metabolism, and look, feel, and be fit.
The optic blue mat outline keeps you bouncing safely in the center of the mat. The electronic fitness monitor keeps you on track to reaching your fitness goals by tracking your workout time, calories burned, and number of jumps so you stay motivated and reach your goals faster. The InTone Plus 38• Rebounder is constructed of rugged steel, yet is lightweight and portable. Because it's affordable, compact, and fun, the InTone Plus 38• Rebounder is a great way to get aerobically fit and toned. Use it in indoors or outdoors-it's easy to move and store.
Material: Steel frame, polypropylene rebounding surface Product Color: Grey frame, black mat, blue optic border and blue resistance tubes Resistance: Medium resistance tubes Comfort Elements: Safety pad, padded resistance tube handles Targeted Training: Cardiovascular fitness, strengthen total body Includes: Stamina® InTone® Plus 38 Assembly: Some assembly required Dimensions: 38 x 38 x 9 Product Weight: 11 lbs Weight Limit: 250 lbs.
Delivery & Setup Options
Club-quality equipment can be rather heavy to move and install. We offer professional exercise equipment delivery and installation to ensure that you get your 2nd Wind. We will install your equipment, confirm your equipment is up and running, and remove boxes and packaging.
Send us an email to inquire about our many delivery options.
Shipping & Distribution Territories
Certain products can only be shipped into states we currently have retail locations. For availability of products outside of our retail locations (MN, IA, ND, SD, NE, MO, OK, AZ, IL, ID, WI) call a store near you. If you live outside of one of these states and do not see shipping options for the product you are interested in, please contact David Egan at: [email protected] or Garret Town at: [email protected] David and/or Garret will be able to assist you with any product shipments outside of our retail store locations.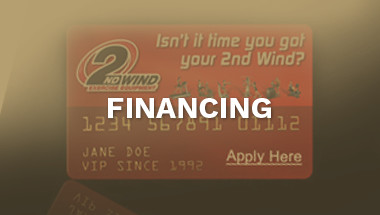 Financing
Before you allow budget limitations to limit your workout regime, be sure to consult with your nearest 2nd Wind store about our financing options that may be available to you.
We've created several customizable programs with our financial partners that will leave you pleasantly surprised at how affordable your workout can be.
Apply for financing online >
Contact your store about special financing offers >