GoFit 18" Massage Roller - Green
The GoFit Massage Roller is made of dense, closed-cell foam offering a soft-touch, while its rigid core provides firm, long-lasting support. The varied pattern gives you a deep tissue massage with a comfortable, foam texture. The Massage Roller's open-ended design allows for a variety of core strength exercises as well as massage applications.
18" X 5.5" Massage Roller with Exercise Manual Flexibility, core strength and recovery are vital components to any training program. A great way to increase flexibility and speed up post-workout recovery is through target-point therapy or self massage. The GoFit Massage Roller is a great tool to awaken tired muscles, pre-workout and to help knead aching muscles, post-workout. Included with the GoFit Massage Roller is our favorite post-workout recovery routine, along with some core and upper body strength moves that you just can't do with traditional rollers. Rejuvenate and strengthen your body with the GoFit Massage Roller!
Delivery & Setup Options
Club-quality equipment can be rather heavy to move and install. We offer professional exercise equipment delivery and installation to ensure that you get your 2nd Wind. We will install your equipment, confirm your equipment is up and running, and remove boxes and packaging.
Send us an email to inquire about our many delivery options.
Shipping & Distribution Territories
Certain products can only be shipped into states we currently have retail locations. For availability of products outside of our retail locations (MN, IA, ND, SD, NE, MO, OK, AZ, IL, ID, WI) call a store near you. If you live outside of one of these states and do not see shipping options for the product you are interested in, please contact David Egan at: [email protected] or Garret Town at: [email protected] David and/or Garret will be able to assist you with any product shipments outside of our retail store locations.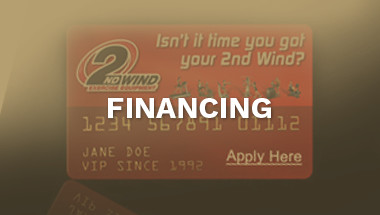 Financing
Before you allow budget limitations to limit your workout regime, be sure to consult with your nearest 2nd Wind store about our financing options that may be available to you.
We've created several customizable programs with our financial partners that will leave you pleasantly surprised at how affordable your workout can be.
Apply for financing online >
Contact your store about special financing offers >